My Lights are not Turning On
If the lights on your bike are not turning on when you press and hold the Up button on your button pad, you'll want to start by checking some connections.
On any models purchased in or before 2020, you should start by checking the wires you connected to the lights during assembly. In some cases, these bikes may have been shipped with wire colors that differed from the colors mentioned in the assembly instructions due to item availability. Your wires could have been a combination of white and black, black and red, or white and red.
Go ahead and switch these two cables, then try holding the Up button on the button pad to turn them on. In most cases, this generally solves the issue.

On models shipped in or after 2021, the cable has a simpler connection. Check to see that the arrows on your light cable are aligned.
If the arrows are not aligned, but you were able to connect them, you may have inadvertently damaged this connection. Please contact Technical Support for further assistance.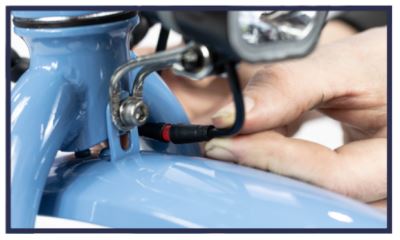 If neither of these two solutions are working for you, there is one more thing you can try. Occasionally, some cable connections come loose in shipping. There are cable wrappings going to both handlebar grips. Unravel these wrappings about 2-4 inches down, and ensure each of these cable connections are properly attached. If you see any cables that are disconnected, connect them by ensuring the arrows are aligned to prevent damage to the pins.
Please contact Technical Support for further diagnostic assistance if you find that these solutions have not yielded a positive result.